One of the frequent questions we get asked is, "how can you afford to eat out so much?"
Financial responsibility folks!
We definitely are frugal with our money. Can you say "Costco and Coupons" three times really fast? I personally have zero debt except for my mortgage. I don't have credit card debt, student loans or car payments. I was raised by my accountant father who made it VERY clear from a young age that you don't buy what you can't afford. He is also notorious for bringing his own cream cheese to Panera for his morning bagel. My car is almost seven years old. Would a new car be nice? Probably, but I don't need one and I would much rather spend my money doing fun things with Mike or paying for my dog's incredibly expensive vet bills.
99% of my clothes are from Poshmark and the few items I splurge on are great quality clothes from Title Nine. Even then, I wait until their annual warehouse sale, where I drop $500 and call my wardrobe "good' for a few years.
The other day Mike looked at me and said, "I don't think anything in your house is new."
Hellllll no.
Everything I own is basically hand me downs from my family or furniture purchased off of Craigslist. I regularly purchase very nice Pottery Barn rugs and furniture off of Craigslist. Get this….rich people like to "remodel" and get rid of all their nice furniture for new stuff. That's when I swoop in.
I do REALLY REALLY REALLY want a King sized bed, and a bed is one thing I would NEVER buy off Craigslist. A girl has got to have some standards.
P.S. If you are purchasing anything off of Craigslist, make sure to first Google Map the address and check that it is a NICE neighborhood. You can then avoid my first Craigslist adventure of ending up in a very shady neighborhood looking at a couch that most likely had bed bugs. Learned my lesson pretty quickly on that one.
Also, always drag your boyfriend or father along on any Craigslist transaction so that you don't get kidnapped or murdered. My poor dad is routinely asked to come along with me to pick up furniture. It doesn't hurt that he has a van.
We also balance eating out so often by cooking frugal meals at home. We rarely cook with meat, and if we do, we only use organic local meat. Shout-out to Fischer Family Farms! I passionately hate wasting food, so most meals we make build off the leftovers from a previous meal. I rarely pick a totally random recipe and go to the store to buy all the ingredients. The other night we had brussel sprouts from our CSA in the fridge, along with butternut squash ravioli and chicken sausage from Costco. We roasted the brussel sprouts in the oven. Topped them with parmesan cheese and tossed them with pan sauteed chicken sausage and the ravioli. We finished it with a drizzle of balsamic. Did we use a recipe? Nope! We literally based the entire meal around the fact that we had great organic brussel sprouts sitting in the fridge that needed to be used. I posted the completed meal on Instagram and a few people messaged asking for the recipe. I excitedly told Mike that maybe I should start posting my impromptu recipes that weren't really recipes. He looked at me like I was crazy and said, "Well you could do that, but you would have to disclose to people that the meals only turn out 60% of the time."
Sooooooo yes. Cooking like this is definitely an adventure. Also, I would put the success rate at closer to 80%. Just sayin….
But along with being frugal, we also have put together a list of deals and steals for eating out.
One of our favorite thing to do is go out to dinner early and hit up happy hour. Most restaurants have great happy hour deals that can easily become a meal. The Avenue Club and Bubble Up Bar has great half price apps during happy hour, like these garlic, spinach, and cheese-stuffed mushrooms topped with Parmesan cheese and toasted bread crumbs.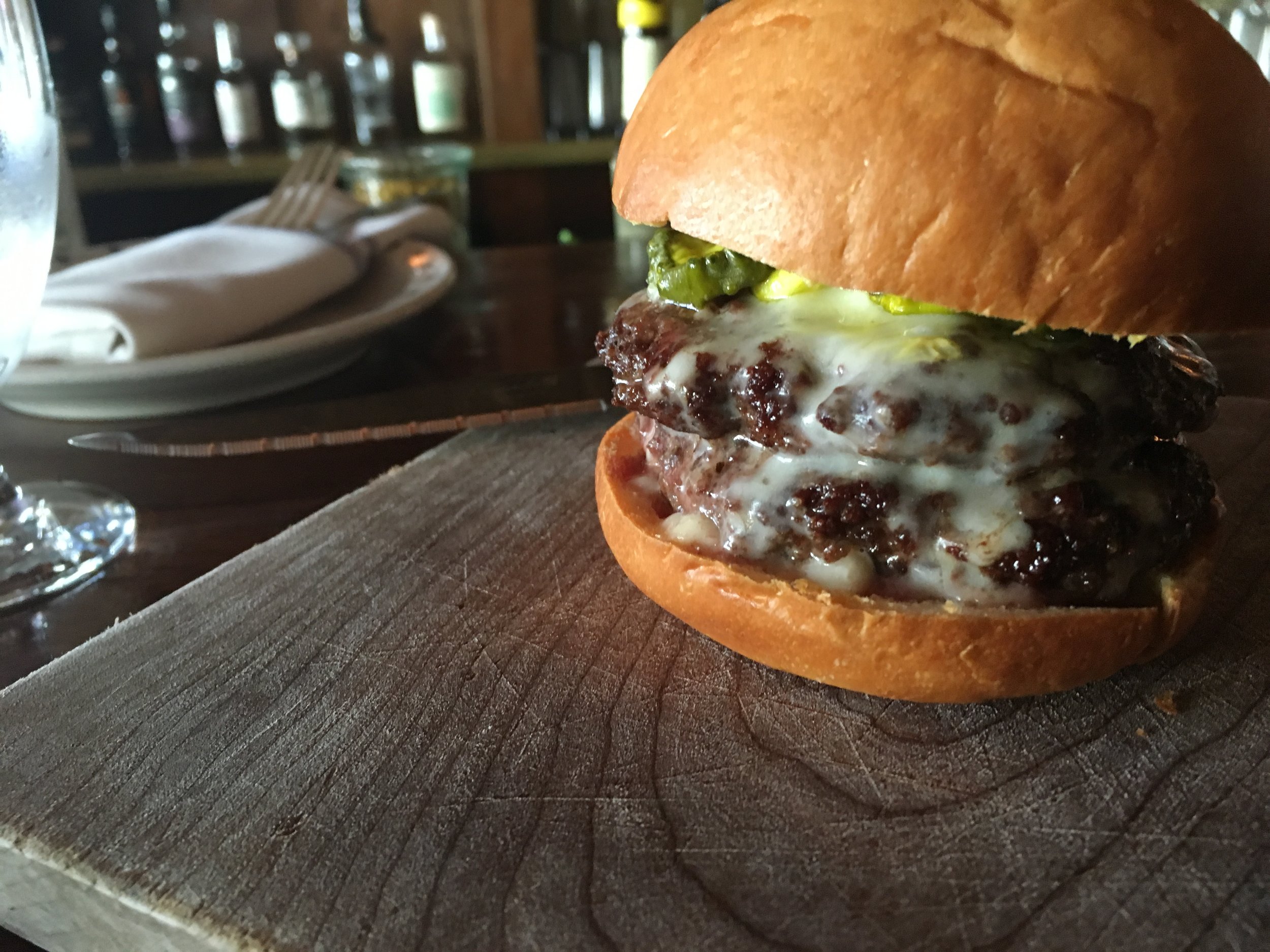 Forequarter has $5 cheeseburgers and tacos during their happy hour. They even make their own homemade corn tortillas.
There are also great rotating daily deals at different restaurants around Madison. The bar at Estrellon has a Wednesday night cheeseburger special. This special is semi-secret and not published on their normal bar menu. They usually only advertise it on their social media pages. You simply show up at the bar and order a burger and fries. The servers and bartenders know the deal, so don't worry about feeling awkward. 99% of our life is awkward encounters so we try to avoid any additional ones at all costs.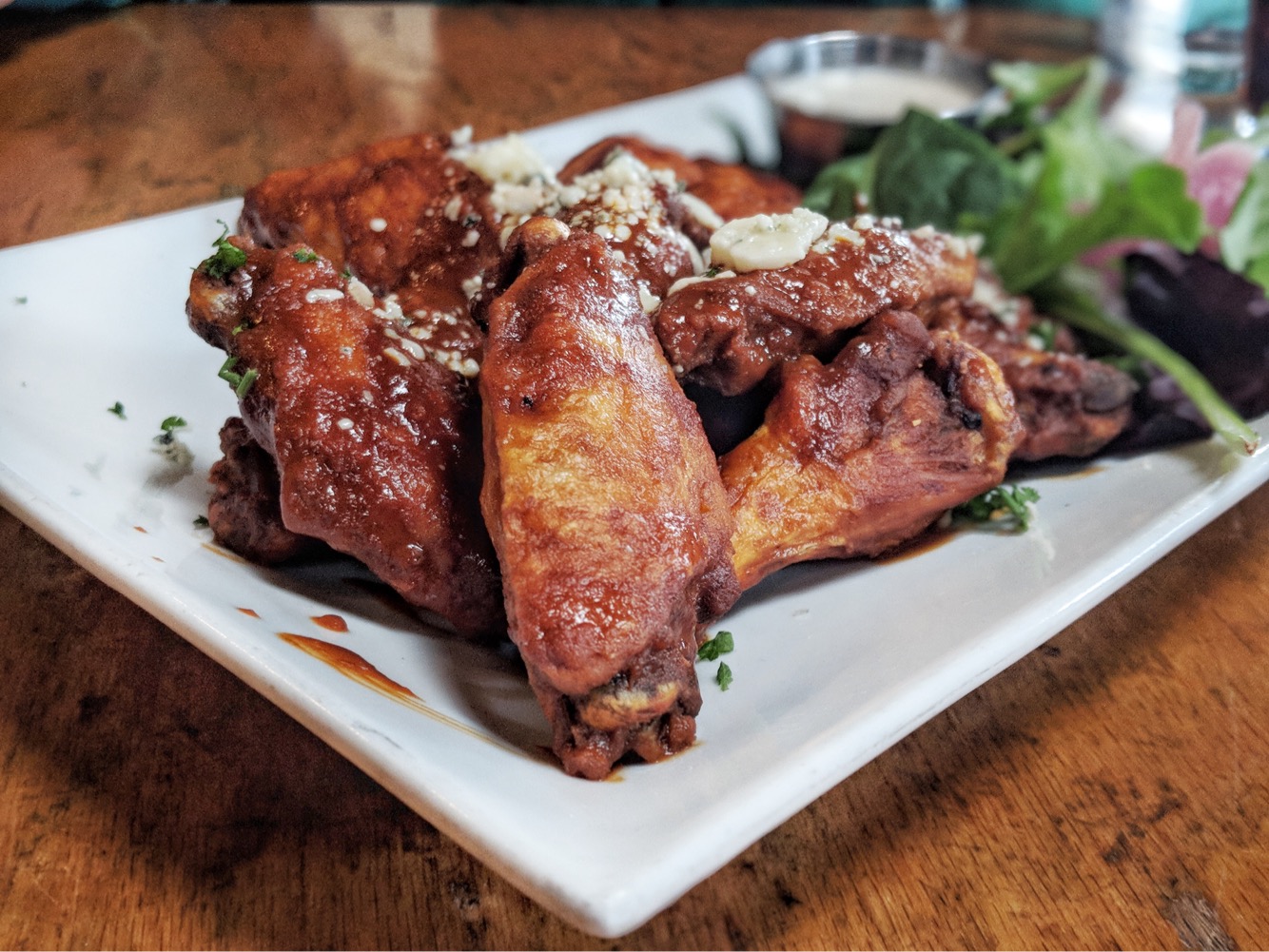 We also frequent a lot of restaurants that have reasonable prices every single day. Alchemy has burgers and wings for really reasonable prices. Plus the hipster people watching can't be beat.
. The late night menu at the Tornado Room has steak, scallops and an amazing wedge salad all for discounted prices. Plus if I order a salad, you know it must be good. The only salad I usually eat is one with fried chicken and ranch. Full disclosure, we've only ever eaten off the late night menu once. It runs from 10:00pm-1:00am and that is wayyyy past our bedtime. The other week, Mike went to a bachelorette party downtown. Since I had to pick his slightly inebriated butt up at 10:00pm, it made perfect sense for me to drag him there for some late night steak and scallops. Plus he was drunk so he was more than happy to pay. Let's be honest though….Mike always pays. I gotta save my bucks for the Panera cream cheese or the dog's vet bills.