Each month we'll take a moment…..GET IT…Midwest MOMENT….to share what we're currently eating, drinking, reading, watching or visiting.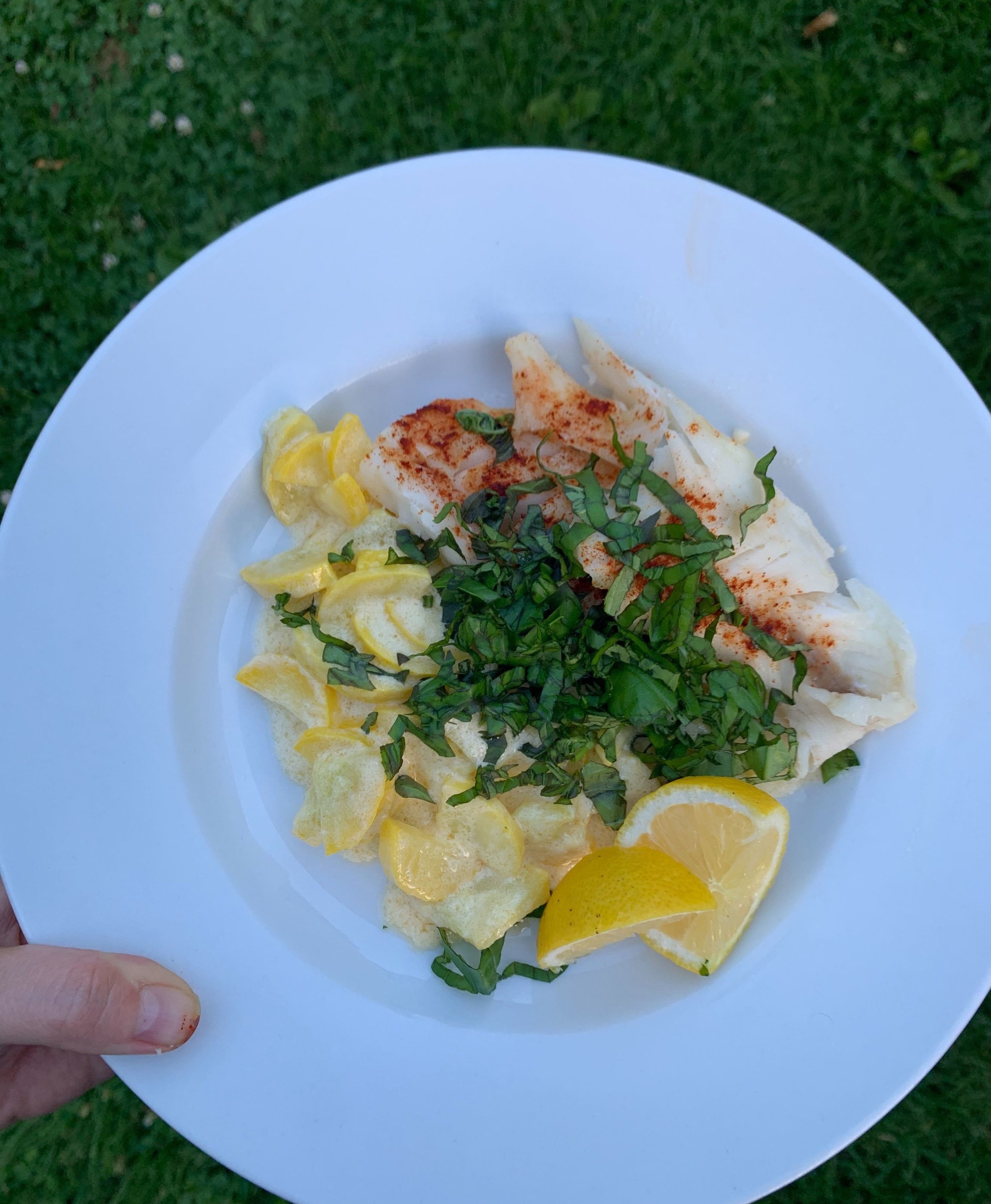 We've currently been eating a ton of fresh fish from Sitka Salmon. The fish is so darn fresh that you don't even need a complicated recipe.
Lemony Cod Recipe:
-Simply top each cod filet with a few pats of butter, slices of lemon, paprika and salt. Wrap in tin foil and bake at 350 for 15-20 minutes.
Dill & Lemon Salmon Rub Recipe:
¼ teaspoon lemon zest
2 tablespoons fresh dill
¼ teaspoon salt
¼ teaspoon pepper
-1 tablespoon lemon juice
Mix all ingredients together and rub both sides of the salmon filet.
Heat 1 tablespoon of oil in a pan. Add salmon filets, skin side down. Continue to cook, until the skin is browned and very crispy, about 4 minutes
Flip salmon and cook until it is just medium.
TRUE CRIME. I've recently discovered a deep and undying love for true crime audiobooks and podcasts and I CAN'T STOP. Mike seems to always walk into the room as the book or podcast begins to describe a particularly grisly scene and I think he's officially horrified of what I listen to.
Chase Darkness with Me by Billy Jensen is the story of an investigative journalist who after 15 years of reporting about crimes, decided to start solving them instead. And he did!
Using good old fashioned sleuthing skills and modern day crowdsourcing technology, he successfully goes on to solve multiple crimes throughout the book.
This true crime book was particularly good because it didn't just focus on one single case. Instead it focused on a few different cases over a span of 20 years. The use of modern technology such as DNA profiling using public DNA database and social media crowdsourcing have brought solving crimes into the modern era.
What We're Saving Money On
Salad Dressing! Most good salad recipes include the recipe for an accompanying salad dressing. In the past, I've skipped this step and instead bought the dressing from the grocery store.
BIG MISTAKE.
Not only is homemade salad dressing 10x more delicious it also is incredibly simple and cheap to make yourself.
Anytime I make a salad, I double the dressing and use the remainder of the salad dressing for the rest of the week.
Here are my top 3 salad dressing recipes:
Dill & Chive Buttermilk Ranch
1/2 cup buttermilk
1/2 cup mayonnaise
2 tablespoons apple cider vinegar
1 tablespoon sugar
1/2 teaspoon Kosher salt
1/4 teaspoon freshly ground pepper
1 bunch of fresh chives
1 bunch of fresh dill
I like to use this dressing along with this Kohlrabi and Broccoli Salad.
Maple Balsamic
1/4 Cup Balsamic Vinegar
1-2 Cloves Garlic Minced
1 Tablespoon Shallot
1 Tablespoon Dijon Mustard
1 Tablespoon Dried Italian Seasoning
1 Teaspoon Maple Syrup
1/4 Teaspoon Black Pepper
1/2 Teaspoon Salt
1/2 Cup Olive Oil
Honey Dijon Vinaigrette
3 tablespoons olive oil
1 1/2 tablespoons white wine vinegar
1 tablespoon smooth Dijon mustard
1 1/2 teaspoons honey
salt and freshly ground black pepper to taste

I like to use this dressing for this Cherry, Goat Cheese & Pecan Salad.
Milwaukee! This last month we've been to Milwaukee twice. Once for Summerfest and once for a quick day trip to visit some restaurants. Whenever we go out of town, even for a day, we spend most of our time walking and eating. While in Milwaukee we stopped at Sobelman's Pub, Dan Dan, and Don's Diner. We also spent some time walking along the river.
Check Out:
-Dan Dan for the Crab Rangoon or General Tso's Cauliflower
-Don's Diner for the Boozy Milkshakes topped with a slice of Cheesecake.
-Sobelman's Pub for the loaded Bloody Marys topped with an entire fried chicken, pickles, sausage, cheese curds, shrimp, a cheeseburger and bacon wrapped chicken bites.