We spent an entire afternoon sweating our balls off at the Wisconsin State Fair, but we ate some of the best fair food around and we're here to share it all with you.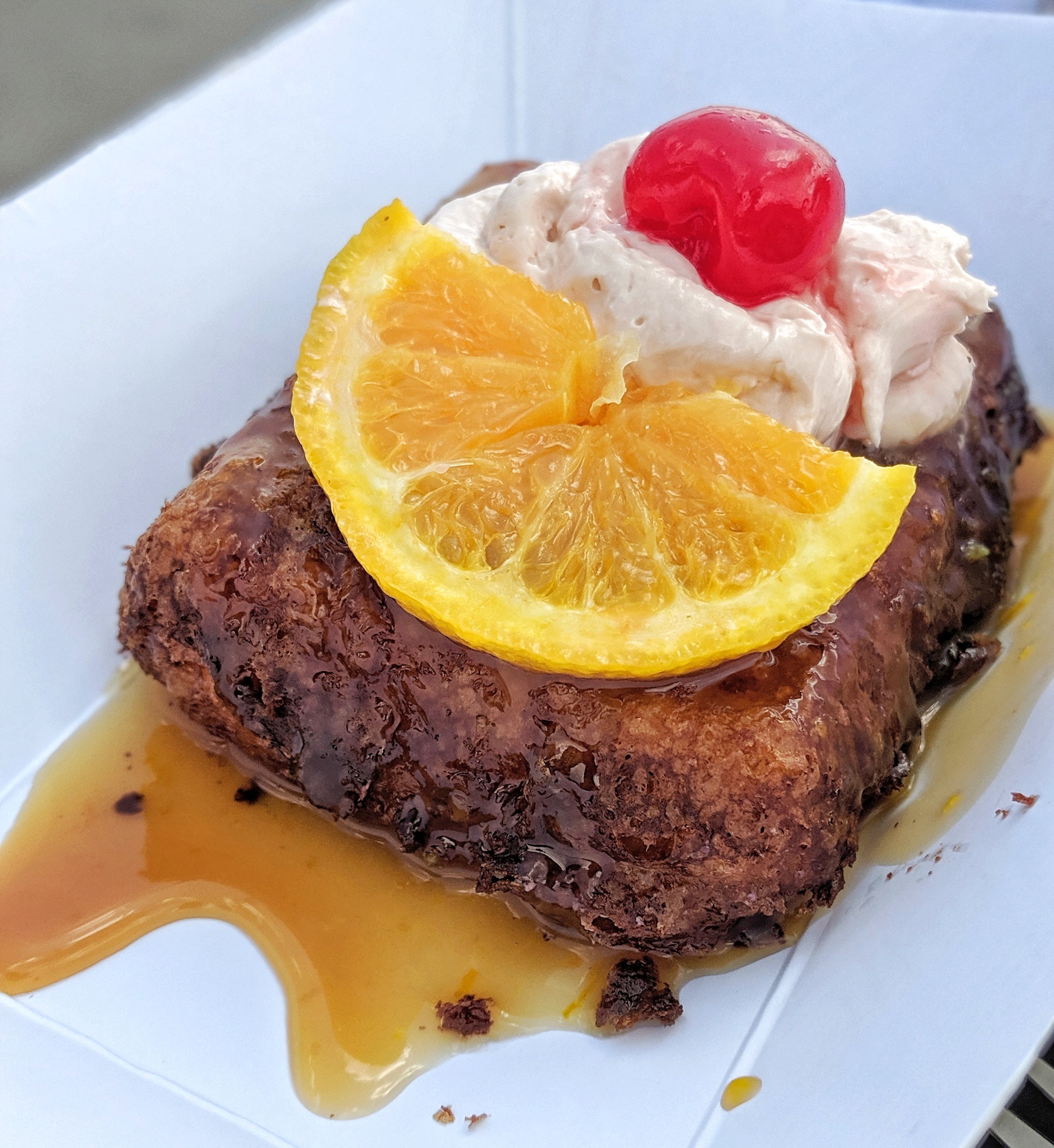 Mike and I both agreed that this was one of our favorite foods at the fair. It was perfectly fried with a crisp outer shell and moist orange pound cake inside.
Jesus….I can't believe I just said "moist".
Deep Fried Old Fashioned with Orange Pound Cake, Brandied Cherry Cream Cheese filling and drizzled with Orange Brandy Caramel Sauce.
A tried and true classic is hard to beat. We spilt this cream puff and both enjoyed it. Nothing to write home about, but still tasty. As Mike took his first GIANT bite of the cream puff, the film crew from Carnival Eats walked up and asked if they could film him eating the rest of the cream puff.
UM YES.
So please be informed that Mike will be debuting as a TV STAR later this Fall.
Yes…You read that correctly…Mike tried a Python Spring Roll. It came with a Spicy Thai dipping sauce that I can only assume was used to mask the flavor of Python.
Mike said it tasted a bit fishy but nothing super distinct tasting about it.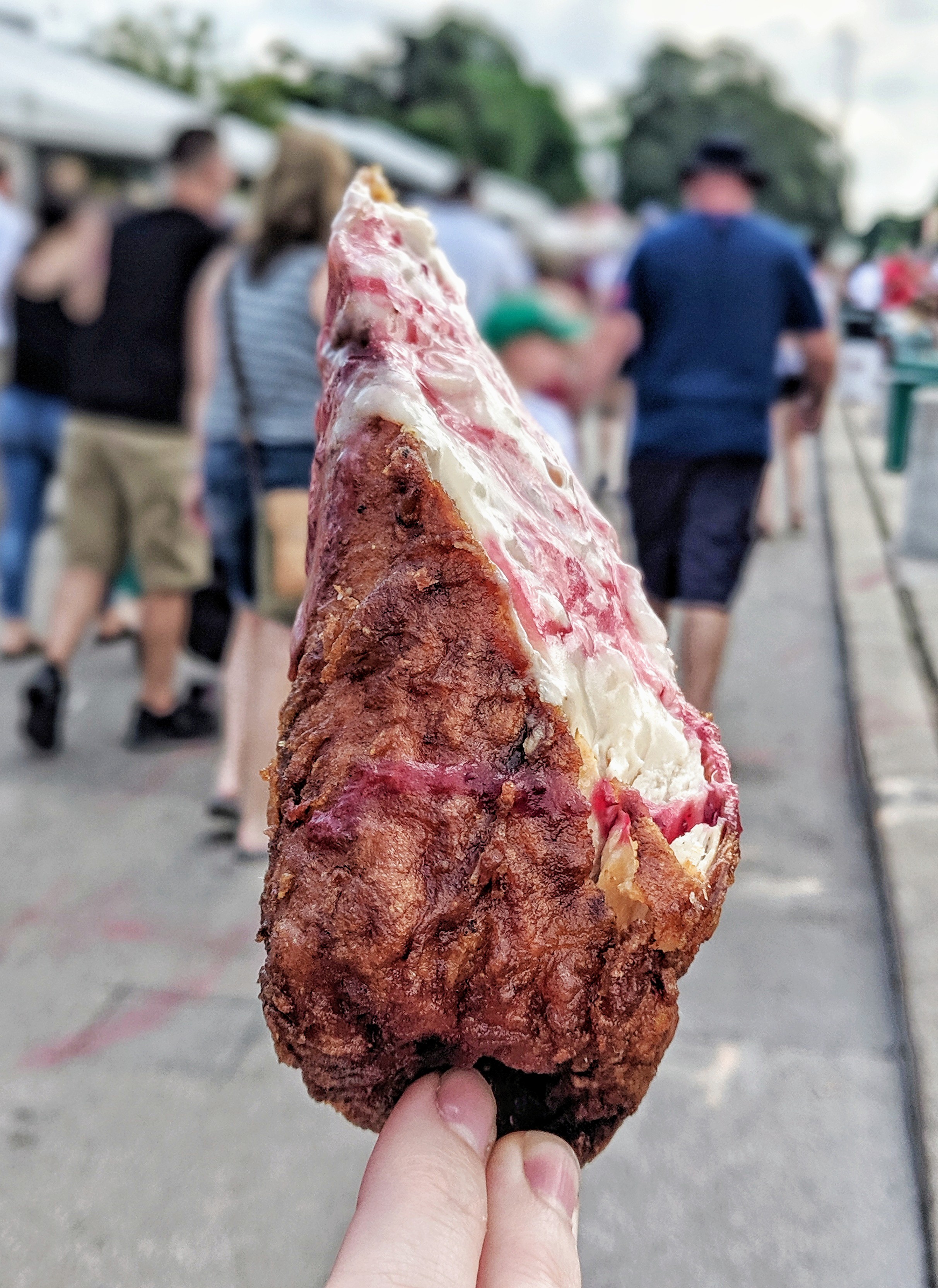 Mike ordered this and I honestly thought it would be gross. I was pleasantly surprised to find that it tasted like "Thanksgiving on a Stick" and what's not to love about that?!
Turkey, Duck Confit, Chicken & Stuffing deep fried and topped with Gravy & Cranberry Sauce.
Garlic & Parmesan Soft Pretzel with Nacho Cheese
This was bad. I didn't think you could mess up a soft pretzel, but apparently I was wrong. It was dry and stiff and very disappointing.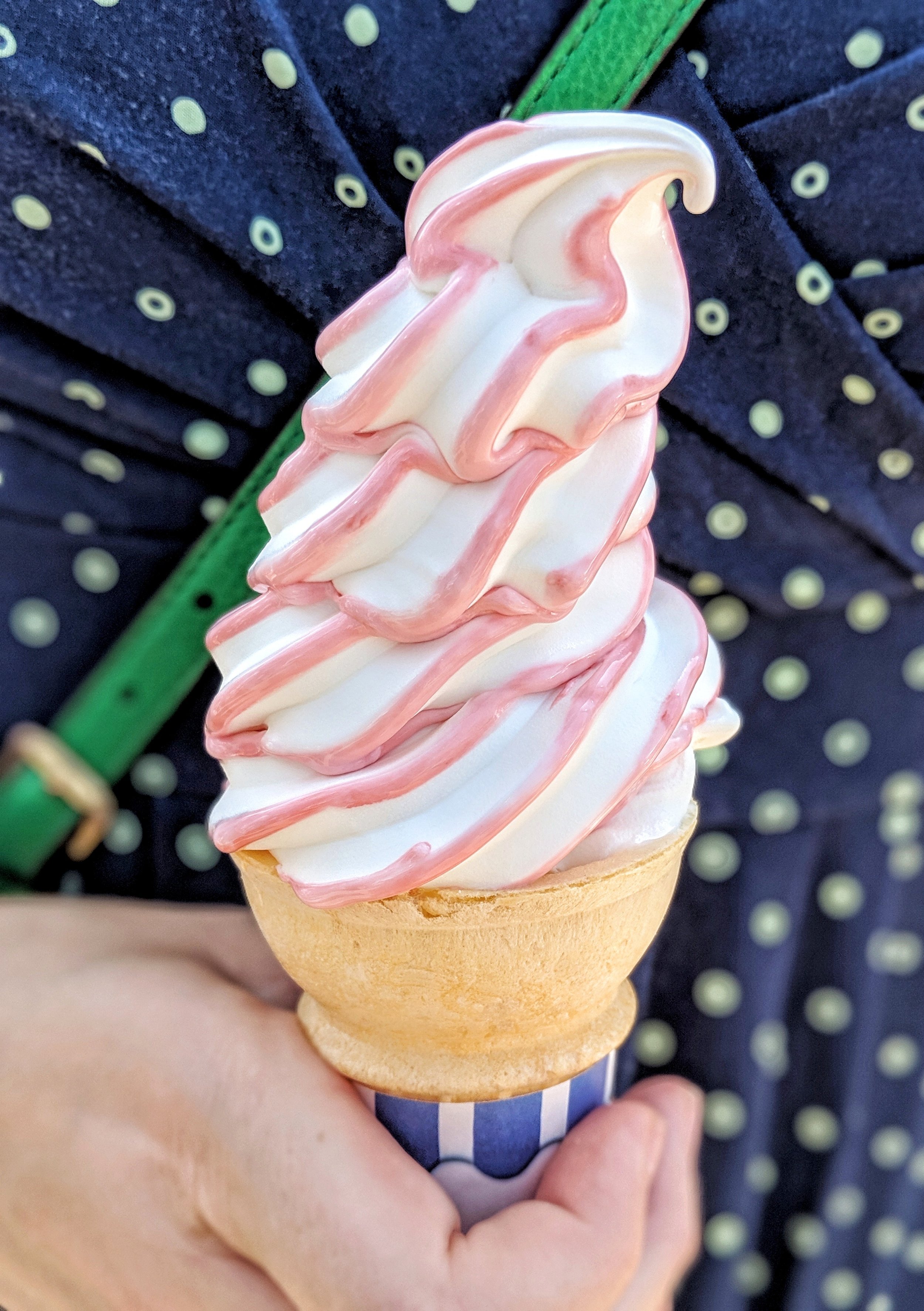 Old Fashioned Vanilla Soft Serve Ice Cream with Strawberry Swirl
A Flavor Burst Soft Serve Ice Cream Cone is a treat from my childhood. It's basically a classic vanilla or chocolate soft serve cone with a swirl of your chosen flavor. A classic flavor swirl like strawberry of cherry can't be beat.
Deep Fried Cookie Dough Sundae
Deep Fried Cookie Dough Sundae with vanilla ice cream & chocolate chip cookie dough layered with swirls of hot fudge and caramel. Topped with deep fried chocolate chip cookie dough bites.
This was our very last purchase of the day and it was pretty frickin good. I bought it for Mike and I told him he better eat EVERY SINGLE bite because I used my hard earned money to buy it. He rolled his eyes and gave it his best shot, but sadly it was too big to finish.