Each month we'll take a moment…..GET IT…Midwest MOMENT….to share what we're currently eating, drinking, reading, watching or visiting.
Earlier this Spring we were obsessed with fish sandwiches, now we've moved on to FISH TACOs!
Our go-to for fish tacos is at Monk's for their Mahi Mahi Street Tacos with Slaw and Chipotle Aioli.
For the last ten years I've sporadically followed the blog Posie Gets Cozy. Alicia Paulsen live in Portland, OR and blogs about cooking, baking, crafting and gardening. It's been years since I fully caught up with all her blog posts so this past month I've been hunkering down in bed with the dogs each night and diving deep into her beautiful world. She was one of the OG bloggers back in the day and she has done a beautiful job of capturing her life and family throughout the past ten years.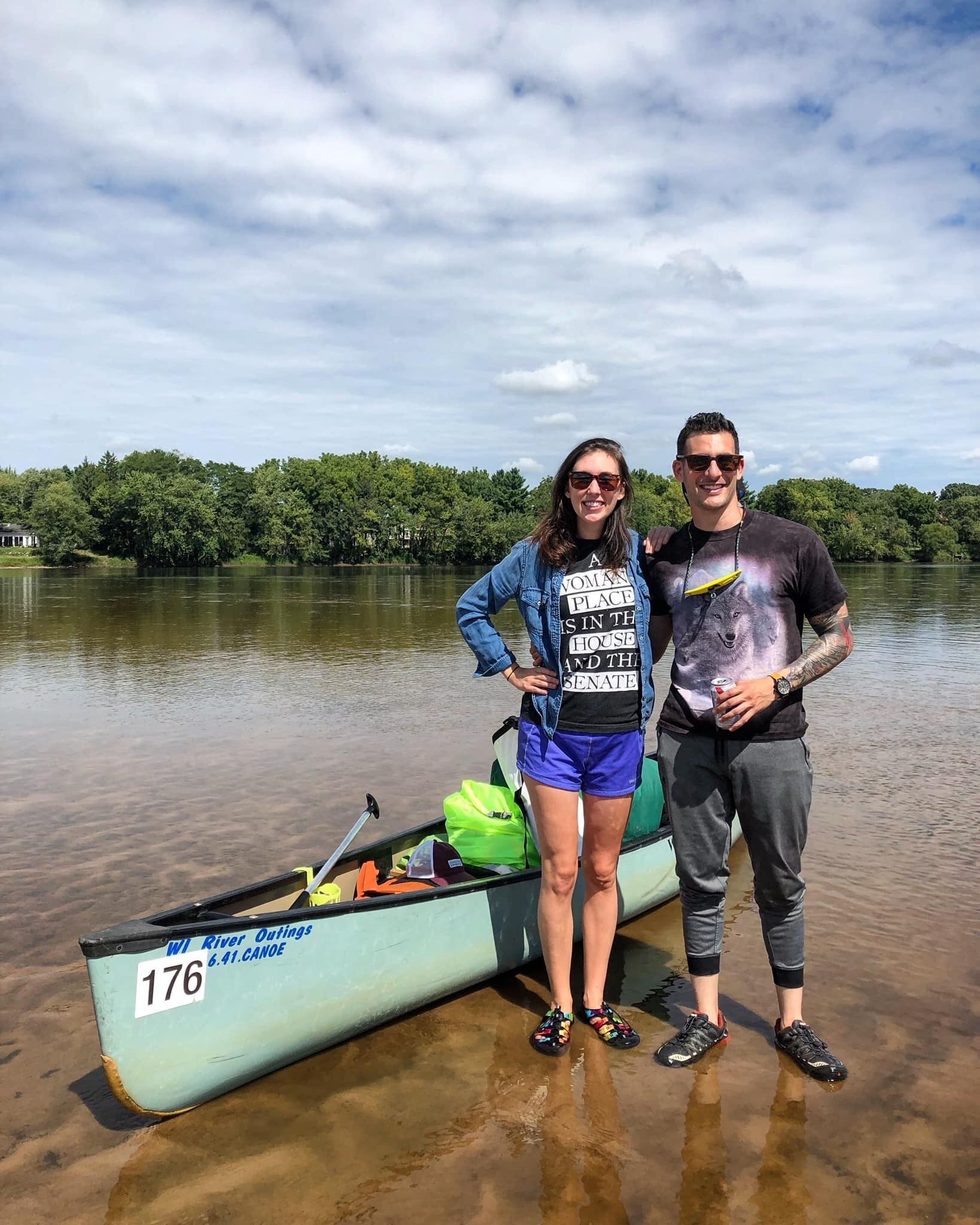 We recently spent Labor Day weekend canoeing down the WI River and camping on a sand bar with friends. This trip is PERFECT for anyone like Mike & I who aren't exactly big outdoorsy people. You can canoe leisurely down the river and the total time actually spent canoeing is really only about 6 hours. We stretched these 6 active canoeing hours over two days so we canoed for a while then would stop and drink and play games on any random sandbar. For camping, we simply picked a nice sandbar to set up our tent and camp fire and hunkered down with friends for the night.
We always rent our canoe through WI River Outings and select the Muscoda to Boscobel trip. They specialize in these types of trips and they have it all planned out so that your car is waiting for you at the end point.
P.S. I thought it would be a * fun * idea to make homemade caramelized onion & brie dip ahead of time and then simply warm it up on the camp fire.
Learn from me.
DON'T DO IT.
Warming up cheesy dip on a camp fire is basically impossible and we ended up with a lot of sand in the dip. Whoops….
I love a good murder mystery podcast, but any plain good old mystery will also do too. The Shrink Next Door chronicles the life of a New York celebrity therapist named Ike. The lies and facade Ike built to control and influence his therapy patients is fascinating.
There's nothing more perfect than taking the scenic drive to Spring Green to see an outdoor play at American Players Theatre. I read the play A Doll's House, back in high school and I absolutely loved it. When we got our tickets to see the play I told Mike that the play was a murder mystery and it would be performed on an outdoor stage.
WHELP.
I was wrong.
There is literally zero murder. And the play was at an indoor theater.
Apparently my memory of a play I read ten years ago wasn't quite as accurate as I would've hoped. Even with my inaccurate description of the play, Mike and I both had a great time and really enjoyed the performance.
P.S. American Players Theatre does have an outdoor stage but they also have an indoor stage for smaller performances.
We recently got the pleasure of participating in the Sitka Salmon Shares annual recipe contest as judges! We made Halibut with Almond & Parsley Pesto.
If you haven't tried Sitka Salmon Shares yet use the code "MMJD19" for $25 off your order.
Recipe for Halibut with Almond & Parsley Pesto
Ingredients:
For the Halibut
1 fillet Halibut, cut into 1 inch pieces
1 tablespoon coconut oil
For the Sauce
1/3 cup of almonds toasted until fragrant and has a little color then let cool
1 teaspoons anchovy paste
2 garlic cloves
2 tablespoons good quality coconut oil
1/3 cup extra virgin olive oil
1 1/2 teaspoons red wine vinegar
2 tablespoons of flat leaf parsley
1 teaspoon red chili flakes
sea salt and fresh ground pepper
Instructions:
Sear the Halibut in a saute pan until cooked through.
Add all of the Sauce ingredients to a food processor and process until somewhat smooth.
Serve the sauce over the fish.